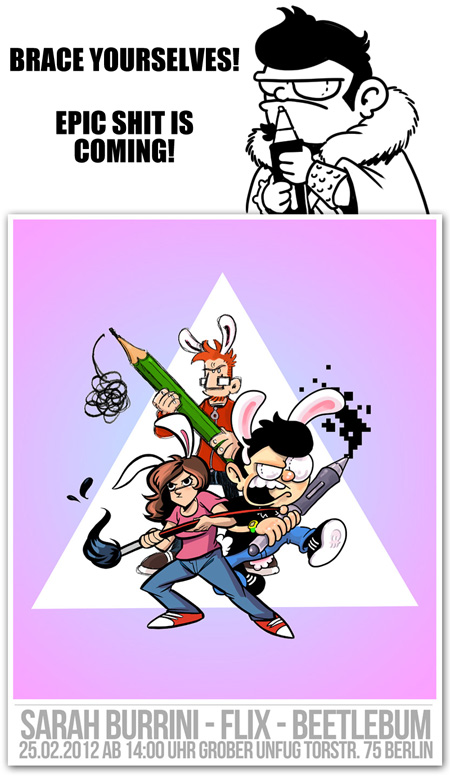 Man mag es kaum glauben, aber ich habe meine erste richtige Signierstunde! Wie das farbenfrohe Poster schon verkündet, sitze ich mit meinen großartigen Kollegen Sarah und Flix am Samstag den 25.2. ab 14:00 im Groben Unfug und werde alles bestempeln und -kritzeln, was man mir unter die Nase hält. Diesem großartigen Event gebührend, veröffentliche ich zudem den dritten Teil meiner BEETLEBUM-Kopierheftchen Reihe. Nach der detaillierten Betrachtung meiner inneren und äußeren Körperfunktionen im Band 2, darf man nun hier die Thematik für den neuen Band bestimmen. Ich lege vor:
THE KIEF CHRONICLES:
Die ganze Handygeschichte mit einem aktuellen, noch unveröffentlichtem Update (Ja, er hat es wieder geschafft!)
FLAUSCH!
Soviel Fell war noch nie! Von Norbert über Nietzsche bis N0mster. Eine Retrospektive meiner Fauna-Mitbewohner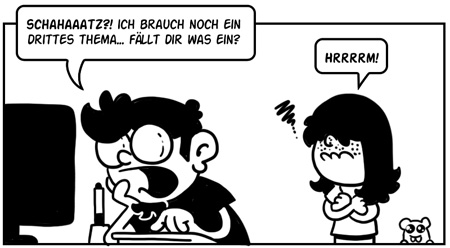 DIE LIEBE MEINES LEBENS
Beziehungsgeschichten von und mit Nadini.
Choose wisely!
LIEBE MEINES LEBENS (45%, 927 Votes)
THE KIEF CHRONICLES (39%, 788 Votes)
FLAUSCH! (16%, 328 Votes)
Total Voters: 2,039
Loading ...